hotels and apartments
sport and leisure
localities
information

Your search
:) We liked it!
Accommodations in Ortisei / St. Ulrich with the largest number of positive reviews in the last 12 months
Please write your review!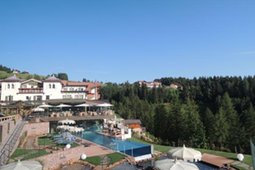 Perfect hospitality 07 February 2022
"The best hotel we have stayed in the Tyrol region, we have ever been to. Best staff, wonderful, warm and magical atmosphere throughout the hotel, super gourmet..." continue
Apartements with a hotel feeling 23 February 2020
"Great combination between spacious apartements and a hotel feeling. Fantastic views, next to the town center and a short walk to Seceda for skiiing. We felt..." continue
Description
Lovely residence with a spacious flowered garden, situated in a central position of Ortisei. Your car can be on vacation. The most important places are within walking distance. The pedestrian zone with shops, coffee shops and restaurants are 2 minutes away from the facility.
deals
11/06 - 01/10/2022

from 394€ for 4 nights

03/12 - 17/12/2022

from 352€ for 4 nights

18/03 - 01/04/2023

from 634€ per week
Characteristics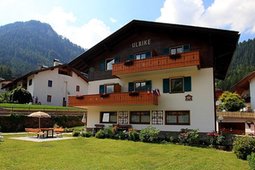 Nice apartment 25 February 2020
"Well equipped apartments in a good location. Comfortable bedrooms. Everything was clean. Nice hospitality of Mrs Ulrike. Near the bus..." continue
Description
The B&B + Apartments Ulrike is situated at the entry of Ortisei, in a valley characterised by intact nature and dreamlike landscapes. For adults and children there is an amazing choice of activities and entertainment.
deals
28/08 - 31/10/2022

500€ per week

08/01 - 28/01/2023

600€ per week
Characteristics
We hope to come again - wonderful apartment for a... 25 February 2022
"Casa Rustica gave us a wonderful experience. Martina, who runs the apartments, was lavish with the helpful, accurate and pertinent information before our..." continue
Description
A warm welcome at House Rustica! It is located in a beautiful area, very sunny and quiet, on the south side, from where you can admire the magnificent scenery of the Dolomites.
Characteristics
Excellent place for good price 09 March 2019
"Very clean and excellently equipped apartments with underground garage and beautiful view. Very friendly hosts always ready to help. The place is very quiet..." continue
Description
The house Mussner invites you to spend an unforgettable holidays. Both in summer and in winter, here you can forget the daily stress and discover new sensations. All the apartments are new, wide and generously equipped.
deals
09/07 - 16/07/2022

from 140€ per night

11/12 - 23/12/2022

from 345€ for 3 nights
Characteristics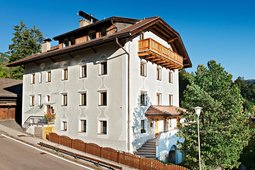 Fantastic view, friendly service and conveniently... 05 May 2014
"Apartments Costa is a definite must to include on your travel itinerary in the Dolomites. Well located with an amazing view, the apartments are clean, spacious..." continue
Description
Apartments Costa is characterized by its spacious apartments and the possibility of a holiday without a car. The apartments are furnished in Tyrolean style and surrounded by a family atmosphere.
Characteristics
Nice apartment 03 March 2014
"A large apartment close to the center and the ski lifts. Beautiful bedrooms with good beds. 2 bathrooms perfectly decorated, large shower. We were on the..." continue
Description
Welcome! The apartment house Ansciuda is situated in a sunny position with a breathtaking view on the wonderful Dolomites listed from UNESCO as a World Heritage Site. Thanks to the very central position you can spend a relaxing holiday, without having to move your car.
deals
16/09 - 25/11/2022

from 95€ per night

01/12 - 24/12/2022

from 480€ for 3 nights
Characteristics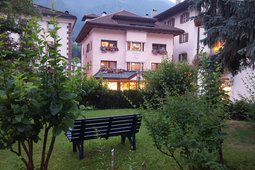 Four nights of bliss in a perfect location in a... 10 December 2012
"We booked this 2 bedroom apartment from recommendations from website's forum and were not disappointed. This block of apartments is right off the pedestrian..." continue
We enjoyed our stay 07 February 2019
"We were very happy to stay in this apartment. The fact that we stayed very close to the Seceda gondola made us very happy. Also the rooms were clean and big..." continue
Description
Living in the best location in Ortisei/ Val Gardena. The Furmescer Alpin Home offers a perfect home for passionate skiers in winter and nature lovers in summer.
Characteristics
A family with two children 11 February 2015
"We were staying at the apartment Garden in February 2015. The apartment was very spacious and comfortable: 3 bedrooms, a spacious bathroom and a separate..." continue
Description
The house Prabosch is located in a very quiet place on the sunny side of Ortisei, closed to the wood, with great view to the valley and the Dolomites, but not too far from the center of Ortisei. In a few minutes you can reach the main lifts connected with the Sellaronda.
Characteristics
Description
Cësa Zotlin is located in the main village of the Val Gardena in the heart of the Dolomites UNESCO World Heritage. The apartments of the Cësa Zotlin are situated in a sunny and panoramic position and offer everything you need to spend a pleasant holiday.
Characteristics
Awesome panorama 20 October 2019
"We love to spend our vacations in Val Gardena, especially at Ortisei. We loved the apartment, which was very clean and comfortable, with big rooms and a..." continue
Description
The Villa Erina apartments enjoy a peaceful, sunny location in the western part of the village of Ortisei, making them an ideal starting point to explore the Val Gardena region in the heart of the Dolomite mountain range during your holiday.
deals
10/09 - 30/11/2022

from 490€ for 5 nights
Characteristics
Please write your review!